Paul Smith's College
July 19-22, 2018  

  
---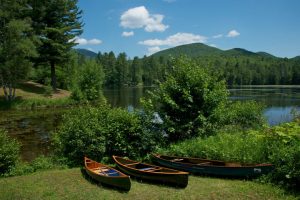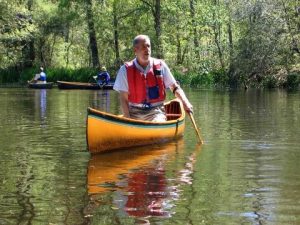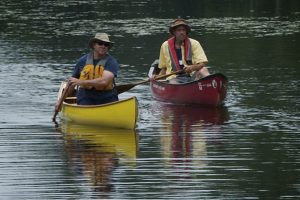 The Adirondack Canoe Symposium offers excellent instruction in a quiet water venue for people wishing to improve their paddling and boat control skills. Courses are offered for all skill levels, from beginners to experienced paddlers, in both solo and tandem canoe.
The ACS is designed to be an enjoyable weekend, where you can receive coaching from experienced American Canoe Association Instructors, who will assess your skills and allow you to learn at your own pace.
.
Non-paddling friends or spouses are encouraged to attend; we can provide info on activities such as hiking, biking, historic tours, shopping, etc.
Classes are based on Freestyle techniques, i.e., using body, boat and blade physics to add efficiency and ease to your paddling.
---
Traditional Canoeing in Traditional Canoe Country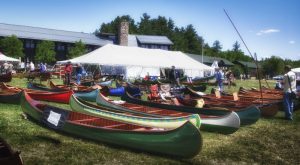 The Adirondack Canoe Symposium will take place concurrently with the Wooden Canoe Heritage Association Assembly.
We will have the opportunity to participate in some of their offerings, and they in ours.
Take advantage of the historic aspects of canoes and canoeing and meet boat designers and manufacturers during the WCHA Assembly.
---
Classes will be offered from Friday morning, July 20 through Sunday noon, July 21.
On Thursday, July 19, we will offer optional paddling trips and other special classes on local rivers/lakes.
Can't arrive until Friday evening? No problem. You can still fit in more than enough instruction on Saturday and Sunday.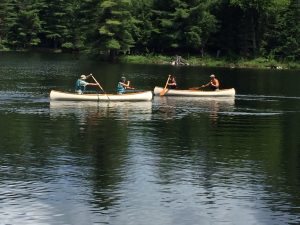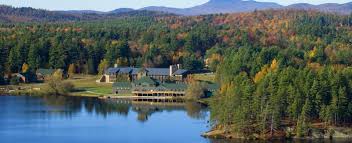 Check-in times:
Wednesday, July 18       1:30 – 4:30 PM       
Thursday, July 19            1:00 PM to 5:00 PM
Friday, July 20                 9:00 AM to Noon & 2:00 PM to 5:00 PM
LODGING:
Paul Smith's College Dorm – The Upper St. Regis Dorm offers "suite style" accommodations. Each air conditioned suite contains 4 single bedrooms, two bathrooms, living room and full kitchen.
RVs – there are limited hookups for RVs on the Paul Smith's Campus. Please let me know ASAP if you are planning on bring a RV.
Although it is highly recommended that you stay on campus, there are motels, hotels, cabins, and campgrounds in the area.
MEALS: Meals will be available at the Paul Smith's Dining Hall. You can choose from a full meal plan or choose which meals you prefer. Since the Dorms have kitchens, preparing your own meals is an option.
---
CLOTHING: The weather is generally pleasant in the Adirondacks in July; days can be warm and evenings are often cool. Cold snaps are possible, so participants should be prepared with warm clothing. Please come prepared for any weather; we paddle unless it is storming.
GEAR/EQUIPMENT: Bring a canoe, paddles, PFD (to be worn at all times when on the water), and kneeling pad. Instructors will teach you in the canoe that you bring. If you need to rent a canoe, paddles, PFD and/or kneeling pad, please let us know ASAP, since rentals are limited and will be provided on a first-come-first-served basis. Additional items to bring include mosquito repellent, flashlight/headlamp, camp chair, sunscreen, and water bottle.
EVENING ACTIVITIES: Evening activities may include a "chalk talk," the Interpretive Freestyle Exhibition, music (bring your instrument), and a Candlelight Paddle on the lake. We can also participate in selected events sponsored by the WCHA.
---
REGISTRATION:
Select the desired courses, meals, lodging, and gear rental (if needed) on the Registration Form and mail it, with the Waiver, Medical Form and payment to Robyn Lowenthal, at the address on the registration form. Please note that there is a $50 ACS registration/insurance fee that is required for all participants whether or not you sleep on site or choose to take classes. Early registration discount will be available. Confirmation will be sent upon receipt of registration. Final registration deadline is July 5th.
The Adirondack Canoe Symposium is an event for paddlers of all ages, levels and tastes. Whether you are an experienced paddler, a beginner or just an enthusiastic fan, our event offers activities and classes for you. Our environment is non-competitive and strictly about immersing oneself in the joys of paddling.
For more information, contact Robyn at Catboat3@gmail.com or 201-314-4462, or Lynn  at Saddleback84@hotmail.com or 518-674-2125.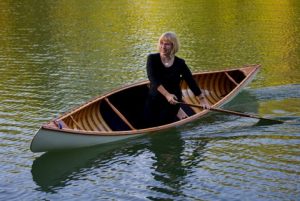 Registration Packet: The-Adirondack-Canoe-Symposium-2017v2